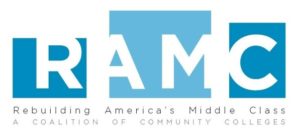 Washington, DC, June 21, 2016 – Dr. Joe May, board president, Rebuilding America's Middle Class (RAMC), and chancellor, Dallas County Community College District (DCCCD), issued the following statement in advance of the House Education & Workforce Committee's mark-up of pending legislation, scheduled to take place tomorrow morning:
"Rebuilding America's Middle Class (RAMC), a coalition of community colleges, supports the House Education & Workforce Committee approval of three bills that members are considering tomorrow in full committee mark-up.  These bills are: H.R. 3178, The Strengthening Transparency in Higher Education Act; H.R. 3179, The Empowering Students Through Enhanced Financial Counseling Act; and H.R. 5528, The Simplifying the Application for Student Aid Act.
Specifically, RAMC is pleased the Committee is advancing H.R. 3178.  This bill provides for more accurate and increased data transparency for college students and their families by fixing a major flaw of solely focusing on first-time/full-time students.
A large number of students attending America's community colleges are part-time students. These students manage households, are full and part time workers who face unique challenges in obtaining their Associates degree within a 2 year timeframe.  This legislation would more accurately reflect their completion rates and ensure that students, parents and the general public know the true cost of attendance, student learning, transfer of credit policies and completion rates at community colleges.
RAMC looks forward to working with the Committee as this bill moves through the legislative process, and appreciates the leadership of the bill's author Representative Foxx, and Chairman Kline and Ranking Member Scott on these important issues."