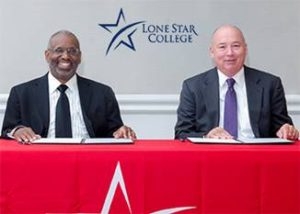 HOUSTON (Sept. 1, 2016) – Lone Star College and Prairie View A&M University are partnering to make it easier for students interested in transferring between the two institutions.
"We want to increase the number of students who attend Lone Star College to transfer to Prairie View A&M University," said Dr. Stephen C. Head, LSC chancellor. "This agreement will help grow that number by providing a clear pathway that will lead to a 4-year degree."
PVAMU ranks in the top 10 of 4-year institutions where LSC students transferred to in fall 2015.
Through this articulation agreement, LSC students and employees receive a 50 percent discount on PVAMU application fees. Students are also eligible to apply for Direct Connect Scholarship Program scholarships valued up to $5,000 each.
The new partnership also includes cooperative advising which allows a student access to academic advisors at both institutions for the purpose of planning and selecting courses applicable to their degree program and joint admission. The agreement was formalized with a signing ceremony at LSC-CyFair last week.
"Today marks an important day with our community educational partner as we sign a memorandum of understanding," said Dr. George C. Wright, PVAMU president. "This new enterprise will help streamline the process for students to achieve their higher education goals."
Prairie View A&M University has been a leader in serving underserved communities and has maintained a strict adherence to its founding principles of teaching, research and service for 140 years. PVAMU is the second oldest public institution of higher education in Texas and has an enrollment of more than 8,000 students, including more than 1,500 graduate students.
"All students should have a pathway to a successful life," said Dr. Alton Smith, LSCS Board of Trustees member during the ceremony. "I am pleased to see these two fine institutions work together for the betterment of our students."
The new agreement also establishes a framework for the future development of articulation for specific programs.
"Prairie View A&M University is a school rich in history and contributes to our community in so many ways. We are honored to join them in this very important effort," said Head.
Officials from both colleges, including Dr. Head and Dr. Wright, were present at LSC-CyFair to sign the agreement and officially launch the partnership. They were joined by LSCS Board of Trustees members David Holsey, Ken Lloyd and Alton Smith; and LSC presidents Dr. Katherine Persson, LSC-Kingwood; Dr. Rebecca Riley, LSC-Montgomery; and Dr. Lee Ann Nutt, LSC-Tomball. Also in attendance was Mike Sullivan, Harris County Tax Assessor-Collector.
Dr. Seelpa Keshvala, LSC-CyFair president, formally welcomed guests.
"We look forward to working with Prairie View A&M University, fostering partnerships such as this is critical to advancing student success," said Keshvala.
LSC has agreements offering seamless transition from a LSC associate degree to bachelor's degrees with many other universities in Texas and nationwide. For more information go to LoneStar.edu/Academic-Programs-Transfer.
Known for its leadership, innovation and steadfast commitment to student success, Lone Star College provides high-quality academic transfer and workforce education / career training programs to more than 83,000 credit students each semester, and a total enrollment of 95,000 students. LSC is training tomorrow's workforce today and redefining the community college experience to promote student success and economic prosperity. Stephen C. Head, Ph.D., is the chancellor of LSC, the largest institution of higher education in the Houston area, which consists of six colleges, eight centers, two university centers, Lone Star Corporate College and LSC-Online. To learn more visit LoneStar.edu.