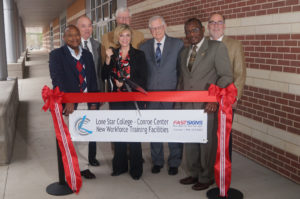 CONROE (Jan. 20, 2017) – Lone Star College-Conroe Center officially opened its new, state-of-the-art workforce training expansion facility. The increase in space will continue its mission in serving the needs of those in the community seeking to enter a new career, expand within an existing one, or simply learn something new.
"Expanding capacity for workforce training helps more people prepare for rewarding careers," said Dr. Rebecca Riley, president at LSC-Montgomery. "Our ongoing goal is to meet the needs of Montgomery County residents who want good jobs, as well as serve businesses demanding workers with the right skills and credentials."
With the 11,055 square feet expansion, the workforce training facility is now 26,377 square feet, nearly doubling its capacity. This expansion allows 1,000 students to obtain skills needed in the workforce, including automotive, machining and welding technologies each semester.
More space means more advanced equipment and hands-on training for the machining, welding and automotive technology programs. The Machining Technology Program added high-tech equipment, including FANUC Controls to go along with its HAAS Controls. The introduction of new equipment will provide more opportunities for applied training and better prepare students for the workforce.
The Welding Technology Program added 23 new booths equipped with Lincoln 350 multi process Welders for advanced welding processes. The program also added a water cooled TIG machine, a plasma cutting machine, and a large MIG machine capable of running large wires for flux core operations.
The Automotive Technology Program added three additional lifts for a total of seven lifts in the shop, a new classroom, and a separate laboratory with equipment for transmission and engine courses, as we well as a covered outside work area.
Stephen C. Head, Ph.D., LSC chancellor told attendees that students who take part in programs at LSC-Conroe Center should feel proud of their accomplishments. Toby Powell, Conroe mayor spoke on the impact LSC-Conroe Center had in the community. Todd Stephens, representing U.S. Rep. Kevin Brady, presented LSC with a flag that had flown over the U.S. capitol.
"We have partnered with many of the area's manufacturing and service companies to provide ongoing support," said Dr. Riley. "We are continuously scanning the employment needs of local businesses, making sure to offer the most up-to-date learning environment. This new facility is no exception."
Also in attendance were Lone Star College Board Members Dr. Alton Smith, chair; Ken Lloyd, secretary; and Dr. Ron Trowbridge; along with Dr. Katherine Persson, LSC-Kingwood president; Dr. Gerald Napoles, LSC-North Harris president; and Shah Ardalan, LSC-University Park president.
Lone Star College-Conroe Center brings affordable, accessible higher education to north Montgomery County. The center is a modern, comprehensive campus that provides a mix of academic transfer courses and corporate and workforce training programs. Whether it's a jump-start toward a four-year degree or gaining the skills to land a real job in a meaningful career, LSC-Conroe Center is here for the community.
Known for its leadership, innovation and steadfast commitment to student success, Lone Star College provides high-quality academic transfer and workforce education / career training programs to more than 85,000 credit students each semester, and a total enrollment of 98,000 students. LSC is training tomorrow's workforce today and redefining the community college experience to promote student success and economic prosperity. Stephen C. Head, Ph.D., is the chancellor of LSC, the largest institution of higher education in the Houston area, which consists of six colleges, eight centers, two university centers, Lone Star Corporate College and LSC-Online. To learn more visit LoneStar.edu.