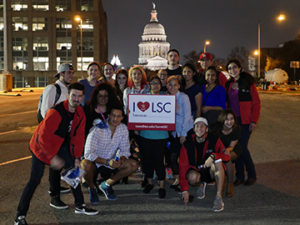 HOUSTON (Feb. 9, 2017) – Students from Lone Star College and across the state traveled to Austin Feb. 7 for Texas Community College Day. The event gives students and educators the opportunity to speak with their state representatives about the important role community colleges play in Texas.
"This is really a once-in-a-lifetime experience for our students," said Stephen C. Head, Ph.D., LSC chancellor. "Participating in Texas Community College Day allows them to speak directly with elected officials and share their perspective on what their community college means to them."
LSC students met with local elected representatives to hear – firsthand – the issues facing higher education. They also were invited to watch the Senate of the 85th Legislature conduct a live session from the gallery.
Students also learned how bills are created, the roles of legislative committees and the governor's role in signing legislation into law.
"We are getting a real feel for what goes into all the processes that make bills into laws," said Christian Chavez, LSC-Kingwood student. "The senators were eager to talk with us and get our questions and actually hear from us."
"Lone Star College had 220 students travel to Austin to take part in Texas Community College Day," said Head. "This demonstrates how engaged our students are in shaping the future of Texas. In all, 1,100 students attended the event from across the state.
Sen. Donna Campbell, Sen. Paul Bettencourt, Rep. Mark Keough, Rep. Kevin Roberts, Rep. Tom Oliverson, Rep. Dan Huberty and Rep. Armando Walle met with LSC students and officials to discuss the important role community colleges play in Texas. The number of students earning an associate degree or certification has increased by 47 percent since 2010 in Texas.
"Community colleges like Lone Star College also serve more than 120,000 high school students through various dual credit opportunities throughout the state helping them to graduate early and save money on tuition," said Head.
LSC officials also met with Sen. Kel Seliger to discuss the 60x30TX initiative which calls for 60 percent of Texans, age 25-34, to obtain a certificate or degree by 2030.
"When we look at the 60×30 goal, community colleges will most likely play the largest role in fulfilling that initiative" said Seliger. The 60x30TX plan is led by the Texas Higher Education Coordinating Board.
Lone Star College offers high-quality, low-cost academic transfer and career training education to 95,000 students each semester. LSC is training tomorrow's workforce today and redefining the community college experience to support student success. Stephen C. Head, Ph.D., serves as chancellor of LSC, the largest institution of higher education in the Houston area with an annual economic impact of $3.1 billion. LSC consists of six colleges, eight centers, two university centers, Lone Star Corporate College and LSC-Online. To learn more, visitLoneStar.edu.