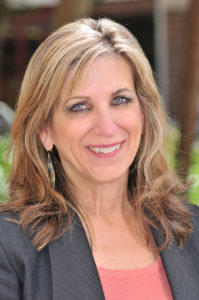 HOUSTON (March 23, 2017) – Linda Head, LSC associate vice chancellor, Workforce Education and Corporate Partnerships, has been named as one of "Houston's 50 Most Influential Women of 2016" by Houston Women Magazine.
"Those selected as Houston's 50 Most Influential Women of 2016 are individuals with vast networks of social and professional connections," said Beverly Denver, publisher, Houston Women Magazine. "They have earned an enviable reputation for their expertise in a particular field or arena."
Head leads over 9,000 students and instructors at 14 LSC locations, student job placement, adult basic education, English as a Second Language, the Lone Star Corporate College, and the development of workforce international projects. Head and her team led the master planning for over $300 million in workforce training facilities, marketing workforce programs and the workforce student advising team. They also spearhead the employer relationships for the greater Houston area and the development and modification of over 50 associate of applied science degrees and certificates.
"I am very honored to have received this recognition, said Head. "I congratulate all the women who were recognized and applaud them for their amazing accomplishments."
Head earned a Master of Science degree in occupational technology, majoring in corporate training from the University of Houston; and a Bachelor of Science degree in business administration, majoring in Human Resources from Indiana University of Pennsylvania.
Head serves as the chair of the Woodlands Chamber of Commerce board, and is past president of AACC, the AACC commission for workforce and economic development and Greater Houston Partnership and UpSkill Houston.
"The thoughts and actions of these women influence the thoughts and actions of others. It is our distinct pleasure to introduce these remarkable women to our readers and to others in our community," said Denver.
Since 2008, Houston Woman Magazine has published an annual, keepsake edition featuring Houston's 50 Most Influential Women of the Year.
This year's event, attended by more 225 invited guests, was co-hosted by Houston Woman Magazine and Chevron and held Sunday, Feb. 19, in the ballroom of The Junior League of Houston. A festive afternoon tea to honor and connect the "50 Women" has been an annual celebration.
Lone Star College offers high-quality, low-cost academic transfer and career training education to 95,000 students each semester. LSC is training tomorrow's workforce today and redefining the community college experience to support student success. Stephen C. Head, Ph.D., serves as chancellor of LSC, the largest institution of higher education in the Houston area with an annual economic impact of $3.1 billion. LSC consists of six colleges, eight centers, two university centers, Lone Star Corporate College and LSC-Online. To learn more, visit LoneStar.edu.