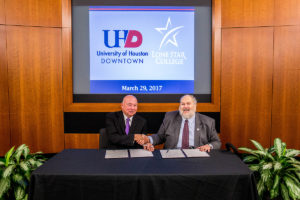 HOUSTON (April 4, 2017) – Lone Star College and University of Houston-Downtown agreed to extend and expand its program to program agreements, making it easier for students to transfer between the two institutions.
"We have no better partnership than the one with University of Houston-Downtown," said Stephen C. Head, Ph.D., LSC chancellor. "Education is the future for our country. These relationships make us all stronger."
The new agreement calls for UHD advisers to have a greater presence at LSC campuses, working with LSC staff to help students through the transfer process. The agreement also allows LSC students to co-enroll at UHD and take classes from both institutions simultaneously. LSC students will also receive a clear outline of courses that can be applied toward UHD undergraduate programs.
"We are proud to collaborate with Lone Star College," said Dr. Michael A. Olivas, UHD interim president. "We are moving ahead to help students succeed and understand the sacred trust they put in our institutions."
UHD currently offers classes at LSC-CyFair, LSC-Kingwood, LSC-University Park, as well as its downtown location.
"We want University Houston-Downtown to be here," said Head. More than 900 LSC students transferred to UHD in fall 2015, ranking it as the fourth largest transfer partner.
"The Lone Star College Board of Trustees and Dr. Head are always looking for opportunities to enhance the skills of our students," said Dr. Dr. Alton Smith, LSCS Board chair. "We believe getting people the skills to succeed makes a better community."
Other LSCS Board of Trustees members in attendance included Ken Lloyd, Dr. Ron Trowbridge and Dr. David Holsey.
LSC has agreements with many other universities in Texas and nationwide to create seamless transition from a LSC associate degree to bachelor's degrees. For more information go to LoneStar.edu/academic-programs-transfer.htm.
The University of Houston-Downtown (UHD)—the second largest university in Houston—has served the educational needs of the nation's fourth-largest city since 1974. UHD is one of four distinct public universities within the University of Houston System. As a comprehensive four-year university, UHD—led by Interim President Michael A. Olivas—offers 44 bachelor's and eight master's degree programs within five colleges (Marilyn Davies College Business; Humanities and Social Science; Public Service, Sciences and Technology; and University College). Annually, UHD educates more than 14,000 students; boasts over 44,000 alumni and is noted nationally as both a Hispanic-Serving Institution and a Minority-Serving Institution.
Lone Star College offers high-quality, low-cost academic transfer and career training education to 95,000 students each semester. LSC is training tomorrow's workforce today and redefining the community college experience to support student success. Stephen C. Head, Ph.D., serves as chancellor of LSC, the largest institution of higher education in the Houston area with an annual economic impact of $3.1 billion. LSC consists of six colleges, eight centers, two university centers, Lone Star Corporate College and LSC-Online. To learn more, visit LoneStar.edu.