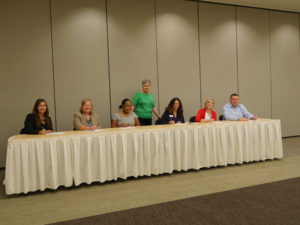 HOUSTON (April 10, 2017) – If you are poor, "you are essentially an illness, an accident or a paycheck away from homelessness" – National Coalition for the Homeless.
"Poverty is an issue that effects the entire community," said Linda Head, LSC associate vice chancellor, Workforce Education and Corporate Partnerships. "Approximately 30 percent of Montgomery County families have incomes below $50,000, barely enough to meet the most basic needs for a family of four."
To help address this critical need, E3=Equip, Educate, Empower, a new and innovative initiative of the Montgomery County Homeless Coalition (MCHC), was formed to bring the community together to "move the needle" in improving stability and self-sufficiency.
"The Montgomery County Homeless Coalition is proud to be the backbone organization for this initiative," said Janet Kasper, MCHC president.  "Our county is blessed to have quality organizations, services, and programs working to help Montgomery County residents improve their stability and self-sufficiency."
Representatives from anchor partners, Lone Star College; Easter Seals, Greater Houston; Crisis Assistance Center; Volunteers of America, Texas; Educational Outcomes; and MCHC recently signed a Memorandum of Understanding outlining what each will contribute to the initiative.
"What is exciting is to see these organizations come together, each bringing their own skill sets and best practices, to work collectively toward a common and far-reaching goal," said Kasper.
The objective will be to target no/low income families and individuals who have the desire, motivation and potential to improve their lives. The initiative will act as an umbrella, bringing together multiple programs, services and strategies that unite nonprofits, government, faith-based organizations and the community to provide a coordinated range of support.
"It is the mission of Lone Star College to build strong partnerships to promote student and community success. This exciting new program will go a long way in helping those who are ready to help themselves," said Head.
The E3 initiative will operate from a centralized location in downtown Conroe across from the Salvation Army. The E3 Center will house a variety of organizations, programs, and services that support and are aligned with the E3 mission to Equip, Educate, and Empower Montgomery County families and individuals to greater levels of stability and self-sufficiency, offering case management, job readiness, financial literacy training, educational and vocational services.
"The perfect partners are in place for the launch of this initiative," said Nancy Heintz, MCHC past president.  "The E3 Initiative can become even greater and more impactful than we can imagine right now; it just takes willing, enthusiastic and farsighted partners who will commit to the vision."
Lone Star College offers high-quality, low-cost academic transfer and career training education to 95,000 students each semester. LSC is training tomorrow's workforce today and redefining the community college experience to support student success. Stephen C. Head, Ph.D., serves as chancellor of LSC, the largest institution of higher education in the Houston area with an annual economic impact of $3.1 billion. LSC consists of six colleges, eight centers, two university centers, Lone Star Corporate College and LSC-Online. To learn more, visit LoneStar.edu.