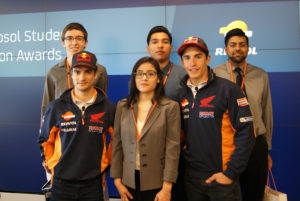 HOUSTON (April 25, 2017) – Repsol presented four Lone Star College students its 2017 Student Innovation Award. The award recognizes local students for excellence in science, technology, engineering and math (STEM).
The LSC students recognized were Fabio Andrean, Aerospace Engineering sophomore; Monica Argumedo, Civil Engineering sophomore: Milton Cruz, Engineering sophomore; and Mueed Ahmad, Computer Science freshman. The students were selected through an application process that evaluated academic performance, career choice, recommendations from professors and honors undergraduate research.
"We are so proud of our students," said Linda Leto Head, LSC vice chancellor, Workforce Education & Corporate Partnerships. "Energy is very important to our economic development and we would like to thank Repsol for helping build the next energy workforce. It is evident that the Repsol leadership is extremely dedicated to education in the U.S."
The projects submitted by the LSC students as part of the application process were:
·        Nuclear Fusion: the Energy Source of the Future – Andrean
·        Becoming a More Innovative Thinker – Argumedo
·        Creating the Real Future: Revolutionizing Man-made Structures into Multipurpose Structures – Cruz
·       Affordable Consumer Solar Power through Efficient Programming – Ahmad
Sam Houston State University students along with students from Conroe ISD were also recognized at the event. The 19 Conroe ISD students were selected by their participation in the 2017 Sci://Tech Exposition held in February. A panel of judges of local Repsol employees evaluated applications submitted by LSC and SHSU students, selecting four winners from each school.
"We believe it's important to invest in students because they are the future leaders in our industry and our communities," said Mariano Ferrari, Repsol Houston Office and U.S. business unit director. "We need their talent and enthusiasm to achieve our goal of building a more sustainable energy future."
The 2017 Repsol Student Innovation Award winners were presented a certificate and merchandise from Repsol Honda MotoGP racers Marc Marquez and Dani Pedrosa. The collegiate recipients were also awarded $5,000 and tickets for the 2017 Grand Prix of the Americas MotoGP, taking place in Austin.
Repsol is a fully integrated oil and gas company with activity in more than 40 countries. Its business spans the entire energy value chain, including exploration, production, refining, chemicals, retail sales and new energy.
Lone Star College offers high-quality, low-cost academic transfer and career training education to 95,000 students each semester. LSC is training tomorrow's workforce today and redefining the community college experience to support student success. Stephen C. Head, Ph.D., serves as chancellor of LSC, the largest institution of higher education in the Houston area with an annual economic impact of $3.1 billion. LSC consists of six colleges, eight centers, two university centers, Lone Star Corporate College and LSC-Online. To learn more, visit LoneStar.edu