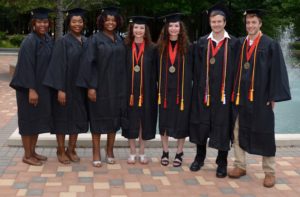 CONROE (May 23, 2017) – Lone Star College-Montgomery graduation was twice as nice for three area families. Devyn Fitzpatrick & Haley Fitzpatrick; Christopher Frantz & Jason Frantz; and Ariole Jones & Ashley Jones, all twins, celebrated their associates degrees with almost 1,400 other graduates May 12. The ceremony was even more special for Ariole & Ashley because their mother, Brandi Davis, led by example and also received her degree.
"I had a great experience at LSC-Montgomery," said Brandi. "Professors helped me get through something that I tried to accomplish 20 years ago and I finally did it. I am glad to achieve it with my twin daughters. May 12 is their birthday as well and it is Mother's Day weekend, this is beautiful time to celebrate life. This is wonderful."
Brandi received her associate of science and is transferring to Sam Houston State University to become a dietician.
"I look forward to helping the world feel better, eating and losing weight," said Brandi.
Educating and helping people runs in the family; Ariole received her associate of science in chemistry and is going on to Stephen F. Austin State University to become a chemistry teacher and Ashley received her associate of arts in music education and will transfer to Lamar University to study the same thing.
They said this fall will be the first time they have been apart for a long time.
"We have been apart before, but not living apart," said Ashley. "This will be for a year."
"It is only a semester," Ariole reminded her sister. "We come back after the semester is over!"
Chris Frantz and Jason Frantz are sticking together. Chris received his honors associate degree in computer science, and is transferring to The University of Texas at Austin, while Jason received his honors associates of arts in finance and is waiting to hear back from UT.
"We will room together, if given the option," said Chris.
"Chris already found a place to live and I told him to take it because if I do not get in I do not want him to be waiting," said Jason. "If I do go and it does not work out to live together this year, we will definitely live together senior year."
The boys decided to come to LSC-Montgomery together because it made sense financially for their family.
"We did not have the funds to both go to a four-year university and live on our own," said Chris. "Even if there were one of us it would still have been very difficult, but with both of us it was a no brainer to go to LSC-Montgomery."
The brothers are both Honors College Chancellor's Fellows, which means they received a full tuition scholarship and a book allowance.
"At first we went to LSC-Montgomery for financial reasons, but overall it was the right decision," said Jason who is also Vice President of Rotaract, Vice President of Outreach for the Honors College Student Organization and part of the Accounting Club. "Being at LSC-Montgomery has given us so many leadership opportunities. It has been such a big change from high school to now. I did not have any regalia in high school and becoming successful in college has been something that has been really life changing."
It was a coincidence that the Fitzpatrick sisters were also accepted to LSC-Montgomery as Honors College Chancellors' Fellows.
"Professor Kennedy called me first to say I was accepted and I immediately asked, 'was my sister accepted too?!'" said Devyn. "He actually told me that was confidential and he could not tell me that information!"
"I was stressed out!" said Haley. "I found out I was accepted two days after Devyn. I was worried. I learned about the Honors College Chancelor's Fellows first and I thought, 'man if I do not get in it would be depressing!'"
Devyn graduated with her honors associates of science and plans to attending nursing school; Haley also graduated with her honors associates of science, she will attend Sam Houston State University for biomedical science.
Many think twins constantly switch places, tricking friends, family and teachers, but the Fitzpatricks, Frantzs and Jones have grown out of playing those games in college, though they admitted to trying to pull of switches in high school.
"In our college classes we sat where we were supposed to so our teachers could keep us straight," said Devyn.
"We do not have the same personality, but similar characteristics," said Haley.
"We are so much alike," said Chris. "We do tons of stuff together. It is nice, being twins has forced us to push each other."
"He has had my back, I have had his," said Jason.
For the Jones sisters their mother has also had their back. She encouraged them to go to LSC-Montgomery together and has enjoyed watching them grow.
"LSC-Montgomery is a great stepping stone to transition from home to college," said Brandi. "It helped my daughters understand how college works, so now that they are going to larger universities they are more experienced."
Lone Star College offers high-quality, low-cost academic transfer and career training education to 95,000 students each semester. LSC is training tomorrow's workforce today and redefining the community college experience to support student success. Stephen C. Head, Ph.D., serves as chancellor of LSC, the largest institution of higher education in the Houston area with an annual economic impact of $3.1 billion. LSC consists of six colleges, eight centers, two university centers, Lone Star Corporate College and LSC-Online. To learn more, visit LoneStar.edu.