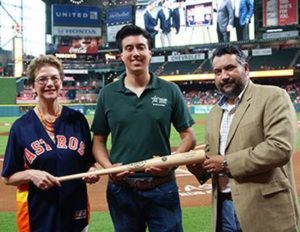 HOUSTON (June 19, 2017) – Lone Star College graduate Kyle Breed is one step closer to realizing his dream of becoming chief of surgery for a trauma center, thanks to the Lone Star College Foundation.
"For me, the reason for picking Lone Star College was economic," said Breed. "A big part of it was the affordability and the convenience of being at home and not having to pay for meals and a place to stay.
Breed recently graduated with an Associate of Biological Science degree from the Honors College at LSC-Kingwood.
"I was really surprised when I got to Lone Star College. Going to the Honors College and being able to participate in the program, I really gained a lot of skill sets I didn't think I would get at a community college," said Breed.
The Honors College at Lone Star College offers a wide range of opportunities for honors students – from incoming freshman wanting to graduate with an Honors AA or Honors AS degree and high-achieving students seeking to graduate with Honors distinction, to students interested in earning individual Honors course credit.
"I've been doing interview practice and learning how to write a resume, so it really helped prepare me for a lot of things I wasn't expecting," said Breed, a recipient of the Dr. Linda Stegall Excellence in Education Endowment scholarship.
The Dr. Stegall scholarship is made possible by an anonymous donor who contributed a $1 million gift in April 2008 to the LSC Foundation in the name of Dr. Stegall, former president of LSC-Kingwood, in honor of her service and passion for higher education.
"What the Dr. Stegall scholarship gave me was the confidence to go further and apply for things I did not think I could ever get. It gave me a massive confidence boost to help me be successful," said Breed.
"The Lone Star College Foundation is proud to play such an important role in student success," said Nicole Robinson Gauthier, LSC Foundation executive director. "Many lives are changed for the better thanks to the support of the generous donors and sponsors in the Lone Star College community."
Founded in 1991, the Lone Star College Foundation has expanded its initial investment of $20,000 into an extensive portfolio of over $22 million. Since its inception, the Foundation has provided over $10 million in scholarships to nearly 10,000 students, as well as more than $4 million in program support. The mission of the LSC Foundation is to change lives through student scholarships and quality educational programs achieved by excellence in relationship building, fundraising, and investment management. Visit www.lonestar.edu/giving for more information.
Lone Star College offers high-quality, low-cost academic transfer and career training education to 95,000 students each semester. LSC is training tomorrow's workforce today and redefining the community college experience to support student success. Stephen C. Head, Ph.D., serves as chancellor of LSC, the largest institution of higher education in the Houston area with an annual economic impact of $3.1 billion. LSC consists of six colleges, eight centers, two university centers, Lone Star Corporate College and LSC-Online. To learn more, visit LoneStar.edu.