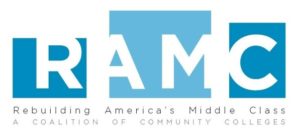 Sullivan, President of the Louisiana Community and Technical College System, Says Reauthorization Will Be "a Critical Step Forward" in "Addressing the Skills Gap"
Washington, DC, May 17, 2016 – Dr. Monty Sullivan, a board member of Rebuilding America's Middle Class (RAMC) and president of the Louisiana Community and Technical College System (LCTCS), urged members of Congress today to reauthorize the Carl D. Perkins Career and Technical Education Act, calling it "a critical step forward for our nation as addressing the skills gap continues to be one of the foremost challenges for igniting our economy and, more importantly, for improving the lives of Americans from all walks of life."
In testimony before the U.S. House of Representatives' Committee on Education and the Workforce, Sullivan spoke both as a Board member of Rebuilding America's Middle Class (RAMC), a coalition of leading practitioners in the field and policy advocates from community colleges and community college systems around the country, and as leader of LCTCS, a collection of thirteen two-year colleges serving over 150,000 students and providing administration and leadership for the Perkins-funded efforts in Louisiana.
Saying he hails from a state with a rich history career and technical education, Sullivan explained that Louisiana ranks first in the nation in the percentage of adults with a high quality postsecondary certificate as their highest level of attainment.  "The strategic investment of Perkins funds has been instrumental to our performance," said Sullivan.
In his testimony, Sullivan called on members of Congress to consider the following list of five policy recommendations:
Align the Perkins Act with the tenets of Workforce Innovation and Opportunity Act to focus on solving the workforce challenges of states and communities;
Emphasize regional consolidated plans across education sectors with significant industry engagement;
Encourage dual enrollment opportunities focused on completion of high demand credentials;
Under the special populations provisions of the Perkins Act, consider focusing on key populations, such as adults with no high school diploma and returning military veterans; and
Accountability that focus on ends measures, not processes.
Prior to taking questions from members of the House Committee on Education and the Workforce, Sullivan concluded: "The reauthorization of the Carl D. Perkins Act is an opportunity to target resources at one of the nation's most pressing challenges- educating and skilling our most precious natural resource, our people.  The programs funded through this Act are today and will be more so in the future the path for millions in pursuit of the American Dream."
About LCTCS: The Louisiana Community and Technical College System (LCTCS) provides strategic management and support for Louisiana's 13 community and technical colleges. Its colleges award associates degrees, technical diplomas, and industry-based certificates in programs that are aligned with business and industry and local economies, which lead students to good paying middle class jobs.  Learn more at www.lctcs.edu.
About RAMC: Rebuilding America's Middle Class (RAMC) is a coalition of community colleges whose mission is to enhance student access and success by promoting the vital role community colleges play in serving Americans — whether right out of high school or later in their careers — and thereby rebuild America's middle class.  Learn more at www.ramc.org.