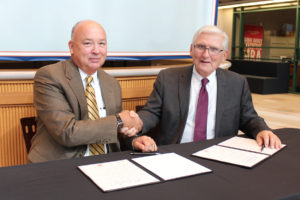 HOUSTON (Nov. 16, 2016) – Lone Star College and Sam Houston State University have formed a partnership to create program to program agreements which will make it easier for students transferring between the two institutions.
"Sam Houston State University is one of our closest partners," said Dr. Stephen C. Head, LSC chancellor. "This agreement provides a clear pathway for students to start at Lone Star College and finish at Sam Houston State University."
The newly signed agreement allows the institutions to create program to program agreements, affording students the opportunity to transfer credit hours in a variety of different programs such as nursing, business and criminal justice. The partnership also helps eliminate the risk of taking unneeded courses which could slow down completion.
More than 1,900 LSC students transferred to SHSU in fall 2015, ranking it as the third largest transfer partner.
"We take great pride in helping students," said Dr. Richard Eglsaer, SHSU interim provost and vice president for Academic Affairs. "Our relationship is based on trust and we share the same values as Lone Star College."
SHSU provides high quality education, scholarship, and service to qualified students for the benefit of regional, state, national and international constituencies and fosters a lifelong learning environment in support of a diverse faculty and staff who are excellent scholars, educators and professionals.
"I love this kind of activity between a community college and a university," said Dr. Ron Trowbridge, LSCS Board of Trustees member. "This agreement results in a win-win situation for students."
"Lone Star College will continue to look for new and innovative ways to help our students reach their goals," said Head. "This agreement with Sam Houston State University is a great step forward in assisting those students who want to further their education in these career disciplines."
LSC has agreements with many other universities in Texas and nationwide to create seamless transition from a LSC associate degree to bachelor's degrees. For more information go to LoneStar.edu/academic-programs-transfer.htm.
Lone Star College offers high-quality, low-cost academic transfer and career training education to 98,000 students each semester. LSC is training tomorrow's workforce today and redefining the community college experience to support student success. Stephen C. Head, Ph.D., serves as chancellor of LSC, the largest institution of higher education in the Houston area with an annual economic impact of $3.1 billion. LSC consists of six colleges, eight centers, two university centers, Lone Star Corporate College and LSC-Online. To learn more, visit LoneStar.edu.