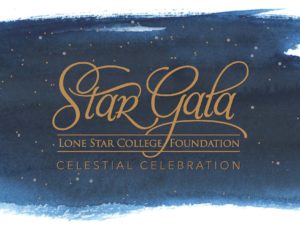 HOUSTON (April 18, 2017) – Lone Star College Foundation will host its 16th annual StarGala Saturday, April 29, at The Woodlands Waterway Marriott Hotel & Convention Center.
"StarGala is more than a fundraising event," said Nicole Robinson Gauthier, LSC Foundation executive director. "It is also a celebration of our donors, who help us to fulfill our mission of changing students' lives through education."
StarGala is the major fundraising celebration of the year hosted by Lone Star College Foundation, the philanthropic arm of Lone Star College, having raised over $5 million for scholarships and programs throughout its history.
Last year alone, the LSC Foundation raised funds and distributed over $1.4 million in scholarships to 1,300 students. Additionally, over $400,000 was dedicated to support of various college programs, and over $300,000 in emergency assistance to students was provided.
"StarGala is a major reason that the Foundation is able to provide this kind of support to our students," said Carl Joiner, LSC Foundation board chair. "91 percent of Lone Star College students stay in our area when they are done to live and work. When you think about where to donate, the Lone Star College Foundation is a great return on your investment."
"StarGala, a Celestial Celebration" will be an ethereal evening of dinner, entertainment and dancing, complete with live and silent auctions stocked with hundreds of exciting items on which to bid, a jewelry raffle sponsored by Thomas Markel Jewelers, interactive student experience stations, and more!
Highlighted auction items includes:
·        Astros Suite with 36 tickets and six parking passes for a home game
·        Pop-Up Planetarium Party for children at LSC-University Park, including fun astronomy physics experiments and gift bags
·        Double Date: Ed Sheeran tickets and VIP suite for four at the Toyota Center
·        A Day in the Life of a Hero – Fire Science Academy tour at LSC-Montgomery, including a live burn demonstration in the flashover chamber
·        First Pitch at an Astros game
·        Private Sunset Wine Cruise for six on beautiful Towne Lake hosted by Dr. Seelpa Keshvala, LSC-CyFair president
·        One-of-a-kind, custom-made chess set produced by the machining department at LSC-Conroe Center
·        Kingwood Kabaret, Big Band Concert and dinner with Dr. Katherine Persson, LSC-Kingwood president
·        "Design Your Own Shoe" party at LUCHO
·        The "Hairspray" Experience – LSC-North Harris spring musical package includes tickets for four, and premium seating, backstage passes to meet the cast, and lunch with the director, Cash Carpenter
·        Four-hour sailing excursion for up to four adults on a 36′ Hunter sailboat including refreshments
·        "The Drowsy Chaperone" – LSC-Tomball musical package, including eight tickets plus dinner with the cast, including professor Sherri White and stars of the production
·        Fun trips to a ski condo in Red River, New Mexico and a beach house in Galveston.
There will also be golf packages at some of the best courses in the Houston area, Texans tickets, Astros tickets, Aggie tickets and more!
Tickets and sponsorship opportunities are still available by visiting www.LoneStar.edu/StarGala2017 or call 832-813-6592.
Founded in 1991, the Lone Star College Foundation has expanded its initial investment of $20,000 into an extensive portfolio of over $22 million. Since its inception, the Foundation has provided over $10 million in scholarships to nearly 10,000 students, as well as more than $4 million in program support. The mission of the LSC Foundation is to change lives through student scholarships and quality educational programs achieved by excellence in relationship building, fundraising and investment management.
The LSC Foundation is proud to support Lone Star College, which offers high-quality, low-cost academic transfer and career training education to 95,000 students each semester. LSC is training tomorrow's workforce today and redefining the community college experience to support student success. Stephen C. Head, Ph.D., serves as chancellor of LSC, the largest institution of higher education in the Houston area with an annual economic impact of $3.1 billion. LSC consists of six colleges, eight centers, two university centers, Lone Star Corporate College and LSC-Online. To learn more, visitwww.LoneStar.edu.