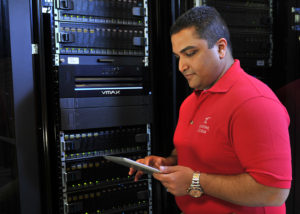 HOUSTON (May 18, 2017) – Lone Star College was recently awarded three grants through the National Science Foundation's Advanced Technological Education (ATE) program.
The grants, which total $461,015, will focus on educating students in technical fields that help drive our nation's economy.
"The grants, which are highly sought after, are awarded based largely on faculty qualifications and leadership," said Stephen C. Head, Ph.D., LSC chancellor. "The awards are a testament to the quality of the faculty and staff at Lone Star College."
The national ATE program includes partnerships between academic institutions and industry to encourage improvement in the education of science and engineering student technicians at the undergraduate and secondary school levels.
One of the grants was awarded to LSC-University Park for its project entitled "Advanced Programmable Logic Controllers, Robotics and Networking." This project will develop curricula for two Mechatronics courses that will incorporate computer networking with Programmable Logic Controllers and robotics to better prepare technicians for the modern digital plant. The curricula will be evaluated by industry partners to ascertain it meets current and projected needs of the Mechatronics field.
A second grant awarded to LSC was for the "Southwest Center Microsystems Education: Scaling Microsystems Support" project. LSC-Montgomery and LSC-University Park will partner with the University of New Mexico to pilot the introduction of microsystems into Science, Technology, Engineering and Math (STEM) courses.
"This grant will provide LSC STEM students with opportunities for Microelectronic and Mechanical Systems training," said Daniel Kainer, Ph.D., LSC-Montgomery Biotechnology Institute director. "This involves the fabrication and utilization of micro size sensors and other electronic devices that detect or act on their immediate environments."
The third grant will be used to develop "The National Convergence Technology Center." LSC-Montgomery and LSC-University Park will work with Collin County Community College District as part of this project to ensure students are prepared with up-to-date information technology skills to be highly employable upon completion of a two-year degree.
"People are often surprised to learn of the kind of research taking place at community colleges like Lone Star College," said Head. "Our students are a shining example of our commitment to ensuring excellence in teaching."
The grants begin July 1 and will continue for up to five years.
The National Science Foundation is an independent federal agency created by Congress in 1950 "to promote the progress of science; to advance the national health, prosperity and welfare; to secure the national defense …" The NSF is particularly interested in proposals from Hispanic Serving Institutions where the proportion of underrepresented students interested in advanced technology careers is growing.
Lone Star College offers high-quality, low-cost academic transfer and career training education to 95,000 students each semester. LSC is training tomorrow's workforce today and redefining the community college experience to support student success. Stephen C. Head, Ph.D., serves as chancellor of LSC, the largest institution of higher education in the Houston area with an annual economic impact of $3.1 billion. LSC consists of six colleges, eight centers, two university centers, Lone Star Corporate College and LSC-Online. To learn more, visit LoneStar.edu.