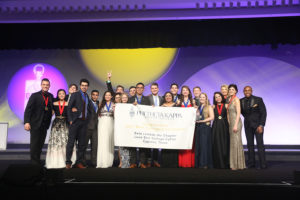 HOUSTON (April 19, 2017) – The Beta Lambda Mu Chapter of Phi Theta Kappa at Lone Star College-CyFair was named 2017 "Most Distinguished Chapter," ranking it first among 1,300 chapters.
The "Most Distinguished Chapter" is the highest honor given to a Phi Theta Kappa chapter.
"I am very proud of this impressive achievement of our students," said Stephen C. Head, Ph.D., LSC chancellor. "This award validates our commitment to ensuring excellence in teaching and learning to promote student success."
This is the third year in a row a PTK chapter from LSC has been named "Most Distinguished Chapter." LSC-Tomball received the award in 2015 and 2016. The award was given at the annual PTK conference held earlier this month in Nashville, Tennessee.
We are so proud of our students," said Dr. Seelpa Keshvala, LSC-CyFair president. "This is an amazing accomplishment, and we are very grateful to our chapter advisors for their leadership, Dr. Blake Ellis and Veronica Martinez, who dedicated their efforts to help our students experience such great success."
The mission of Phi Theta Kappa is to recognize academic achievement of college students and to provide opportunities for them to grow as scholars and leaders. PTK is the official honors society for two-year colleges and it has more than 1,300 chapters and almost 3 million members in the United States, Canada, Germany, Peru, the Virgin Islands, the United Arab Emirates, Guam and American Samoa 
"To receive this recognition once is quite an achievement," said Debbra Esparza, LSC executive director Organizational Development and PTK regional coordinator for Texas. "But for Lone Star College to win it three years in a row is incredible." 
The annual international conference featured speakers from around the world including Dr. Jennifer Arnold, neonatologist and television personality; Andrew Porter, PTK international president; British photographer, Platon; and Jamie Hyneman, Mythbusters co-host and special effects guru. 
"It was a special night that culminated in our being named the top chapter," said Noah Miller, LSC-CyFair chapter president. "Beta Lambda Mu's achievement is more than I ever could have hoped for, but what I will truly relish is the time I've been given to work alongside such driven, thoughtful and creative people. It has been a true honor. And I think it's important to say that this would not have happened without Dr. Ellis."
To be considered for a Distinguished Chapter Award, a chapter must submit entries for both the Honors in Action Project and College Project Award. Selection of the Distinguished Chapters was based solely on the entries for these Hallmark Awards. The scores in each of the two Hallmark categories were averaged to determine a chapter's overall ranking.
Lone Star College offers high-quality, low-cost academic transfer and career training education to 95,000 students each semester. LSC is training tomorrow's workforce today and redefining the community college experience to support student success. Stephen C. Head, Ph.D., serves as chancellor of LSC, the largest institution of higher education in the Houston area with an annual economic impact of $3.1 billion. LSC consists of six colleges, eight centers, two university centers, Lone Star Corporate College and LSC-Online. To learn more, visit LoneStar.edu.